It all started when I saw
Baby Nella's
new suit a few weeks ago: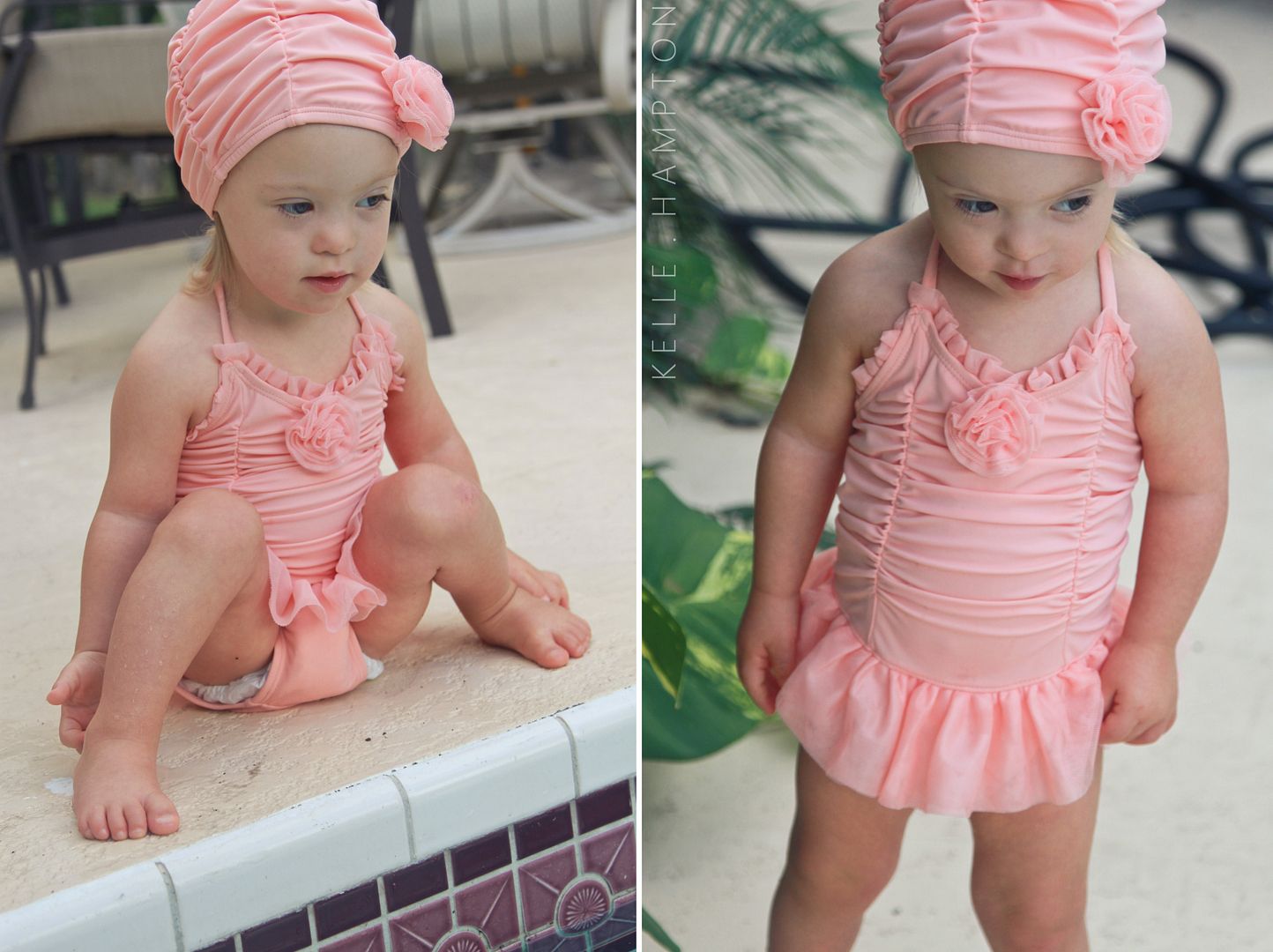 I know!
Is that not the most darling little suit you've ever seen?
Lily could barely squeeze into her last year's suits
so it's been on my list to get a couple of new ones made.
I took her to pick out fabric for one of them
and figured for the other one, I'd use some leftover fabric from years past .
from January 2010 ~ my first suits!!
But Nella's suit kept rolling around in my mind
so I went back to the fabric store
and grabbed some yellow-gold (crappy) swimsuit fabric
(2 way stretch? How can they call that swimsuit fabric?
Silly me just went for the color and didn't bother to actually feel it; I was in such a rush.)
Then I decided if Lily had a princess suit,
Lexi would probably want one also, even though she didn't need a suit,
seeing that she can wear Lily's old ones...
So I grabbed some blue, too.
(Which was a perfectly acceptable 4-way stretch swimsuit fabric)
Belle & Cinderella!!
I thought Lil's suit was soo much fancier than Lexi's
and felt kinda bad about it.
I mean, the whole point of making one, was so she'd have a fancy suit, too.
I needn't have worried, she loves it!
I hate that my photos didn't end up being very good;
I took like fifty of 'em.
But if you look really closely, maybe you can see that Lexi's has that pouf thing at the sides...
Since I spent more than my usual amount of suit-makin' time sewing those suits,
I told Lily the suit I'd be making with her fabric would be a simple one.
She's such a sweetie that she didn't mind one bit.
This one actually fits quite a bit better than the Belle suit.
(Nice and snug - so it doesn't start falling off once it's wet.
This fabric is pretty lame, too - not as much Lycra as I'd prefer, so the suit sagging was a valid concern.
I made the bottoms first and had her hop in the tub so we could see how they'd preform.
She said once they were wet, they fit perfectly.)
I wasn't the only one sewing this week!
Lily had a hankering to sew a bag
(of course!)
and she had picked out a fat quarter when we were at Hancocks, so she used that.
I glued the edges with
a basting glue
so she wouldn't have to work around pins
and then drew stitching lines for her to follow.
She did super, only going
around the fabric
(rather than up and down) a couple of times.
Sadly, there's been very little reading going on this week.
I sat down once with a book, but never even managed to crack the cover.
~