I confess.
When I read the word 'lawn',
I was hooked.
Add to that, the colors are so bold and summery
and the prints are just plain fun.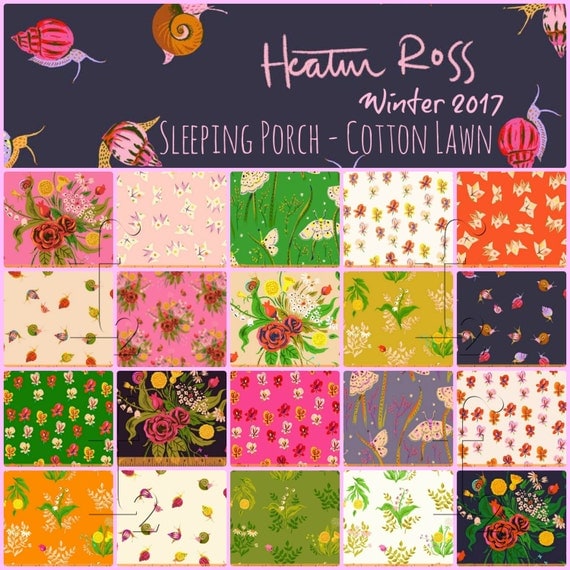 But
we aren't really spending any money right now,
unless it's for building the house,
food,
or other necessaries.
Every time I would see somebody get their grubby hands
on a bundle of Heather Ross' Sleeping Porch,
I tried to figure out a way
that I, too,
could get my grubby hands on one.
Then,
one morning,
I walked by my dresser
and noticed the envelope holding last year's birthday card
from Mom and Bill.
With money still in it!
I hadn't spent my birthday money yet;
I could buy a Fat Quarter Sleeping Porch bundle!
And so I did.
It arrived last Monday.
I starched and cut fabric for 2 baby quilts on Tuesday.
Wednesday, when my Art Gallery Specktacular in gold arrived
Why recreate the wheel?!)
I starched and cut it, too.
(I should have done a few test blocks first.
my points are nowhere near perfect : /
but I decided the fabric shines enough
that it's okay.)
and laid out the quilt.
For someone who likes
limiting ones self
to just one fabric line
(especially with lots of repeats)
is tricksy!
Friday
I sewed the blocks into a completed top
and Saturday,
when Tyler ran to the hardware store,
I ran outside with it
and snapped a few pictures.